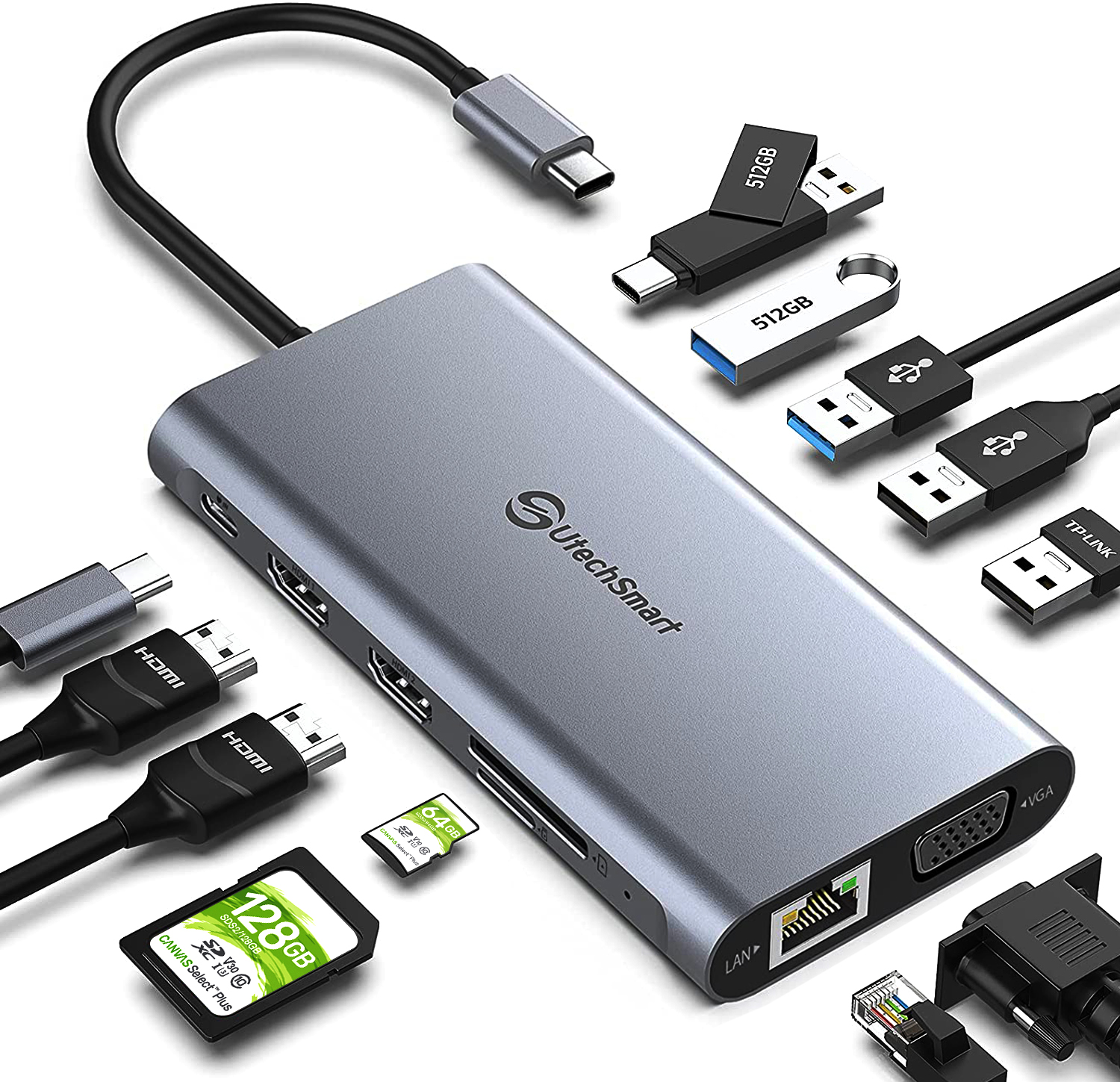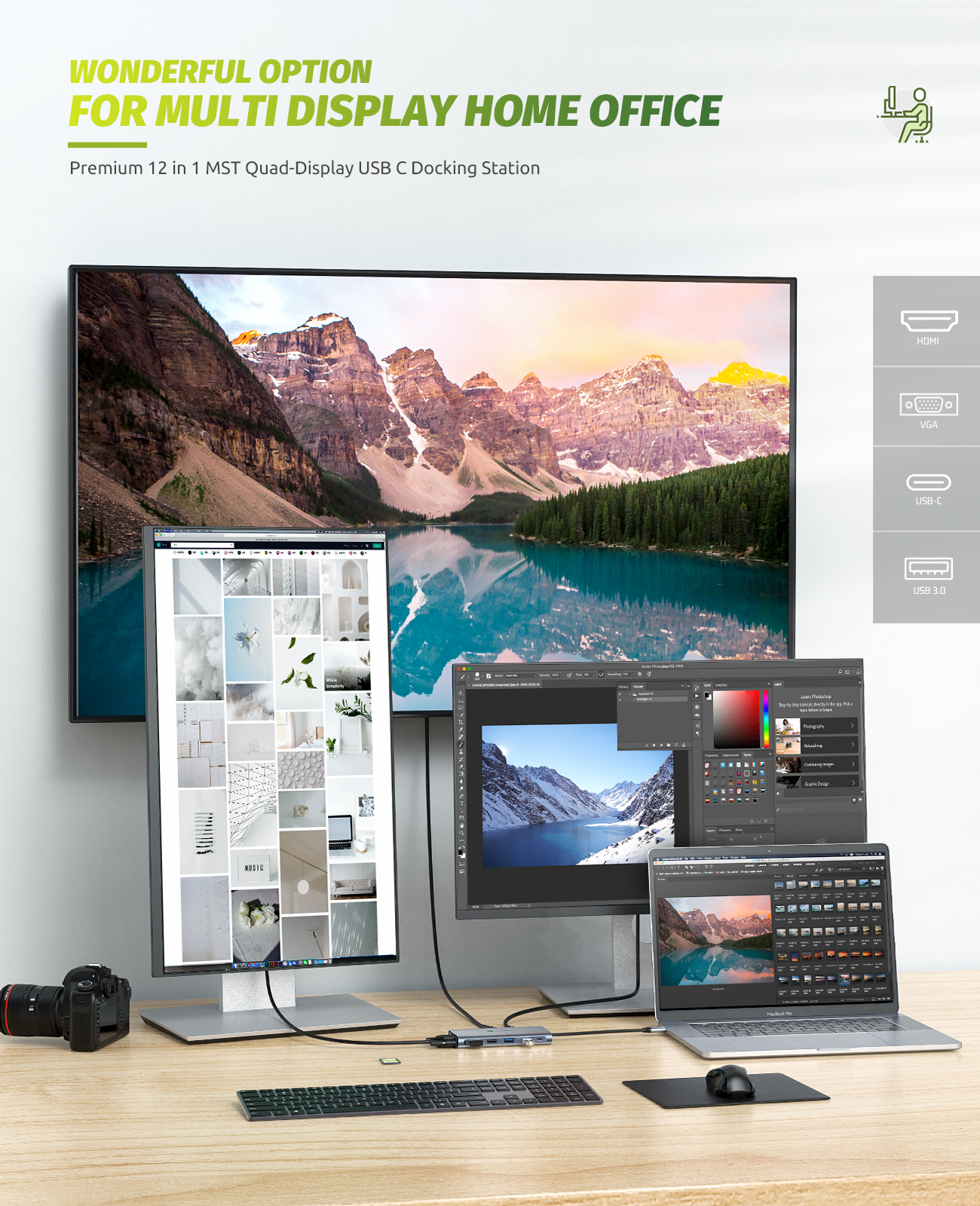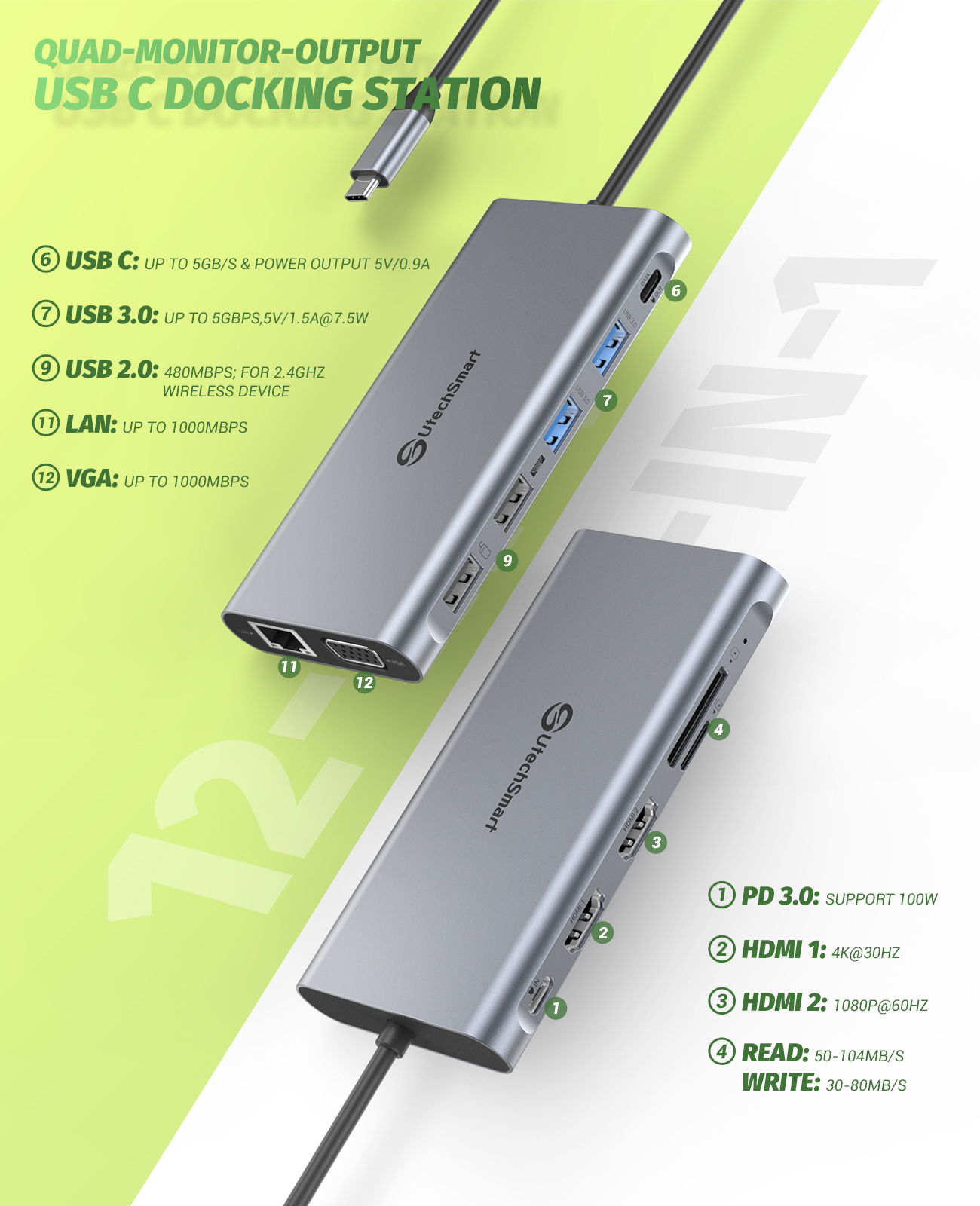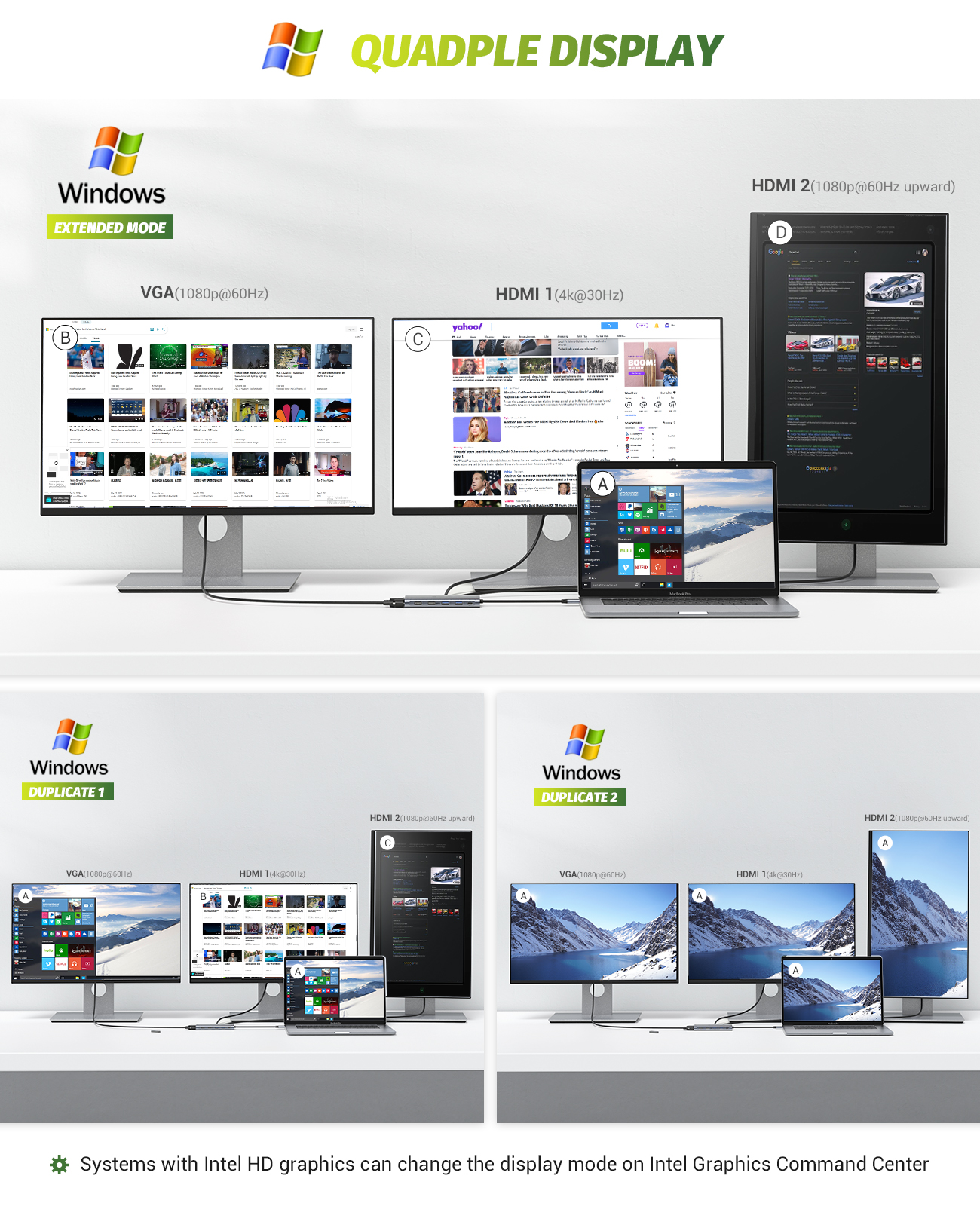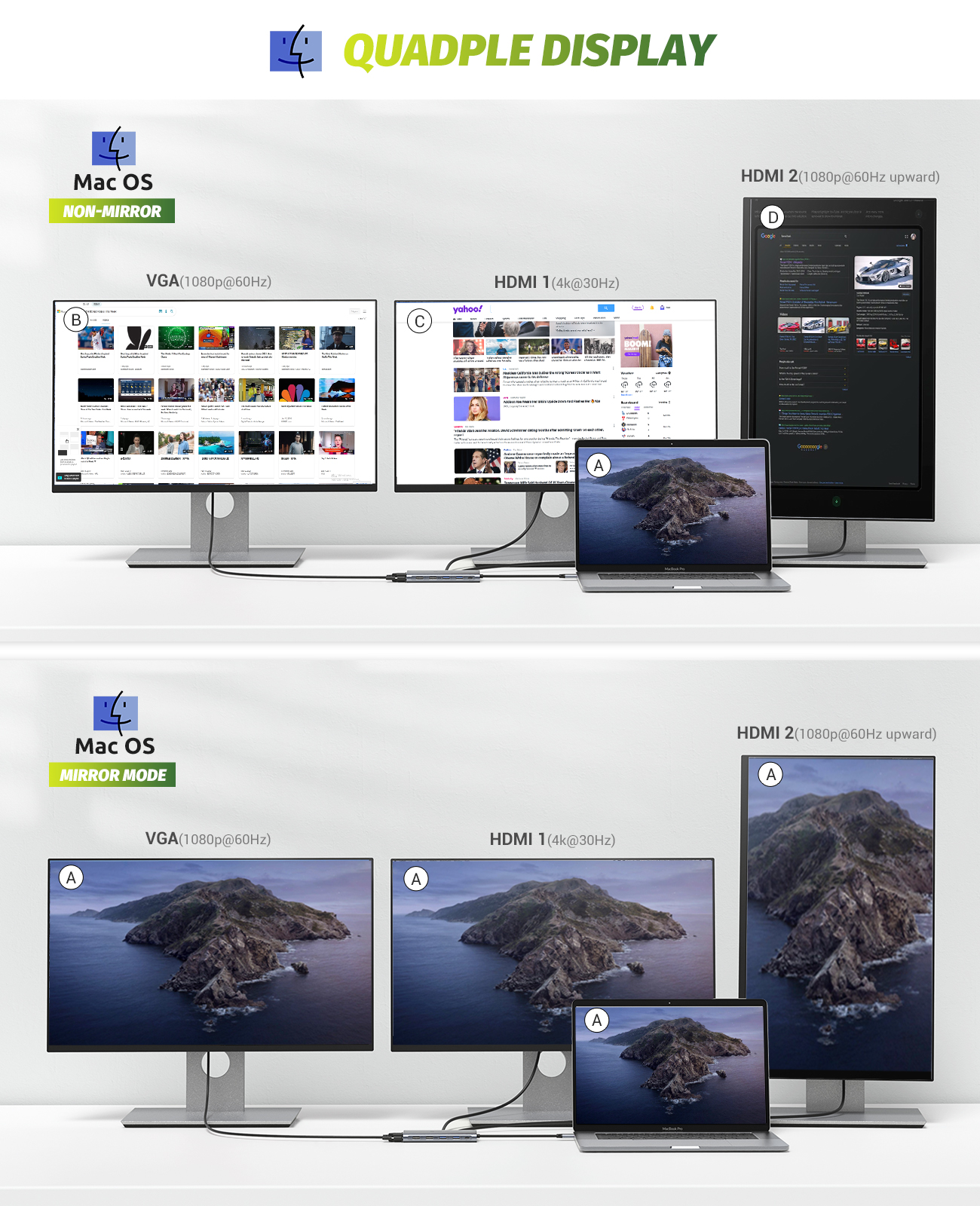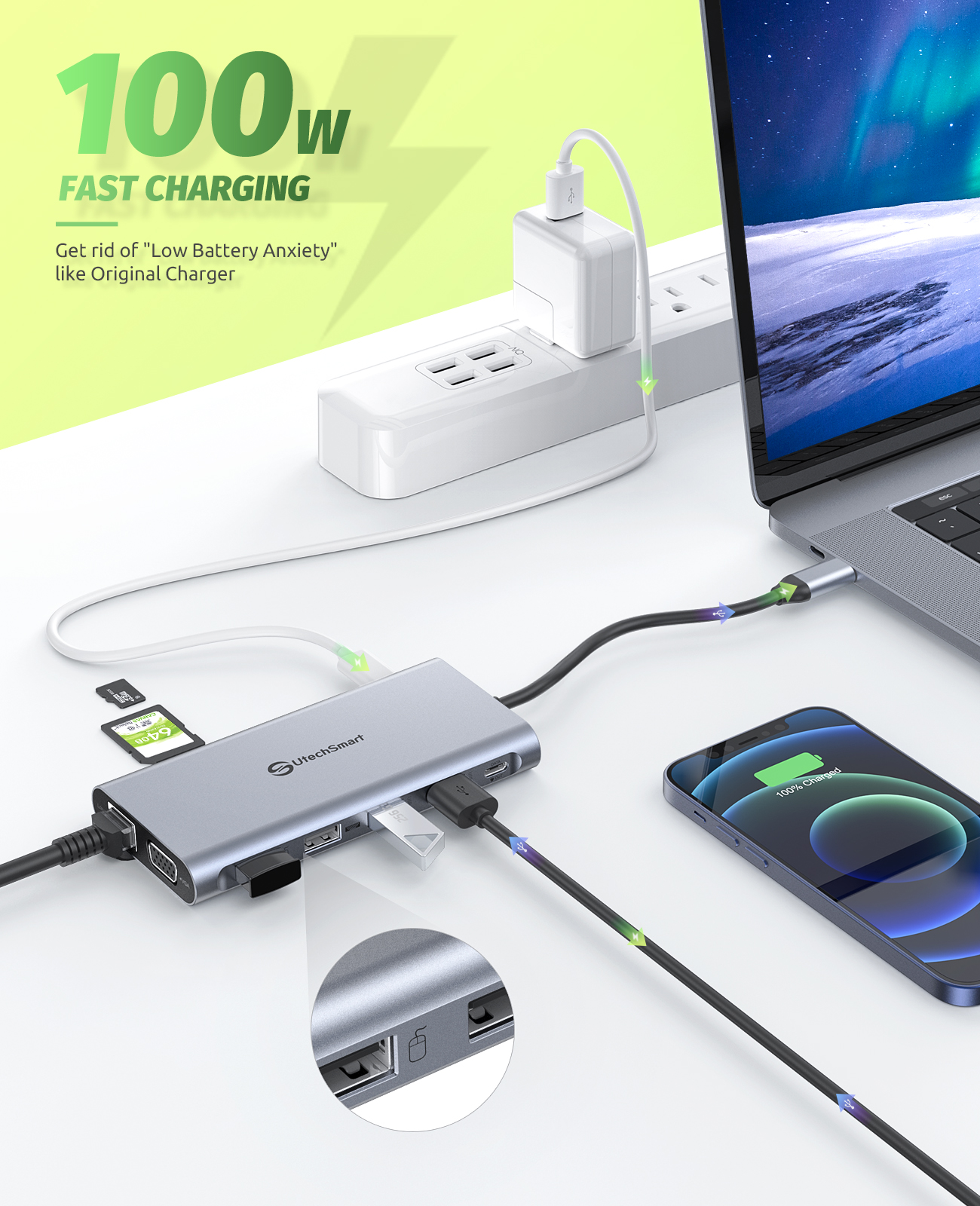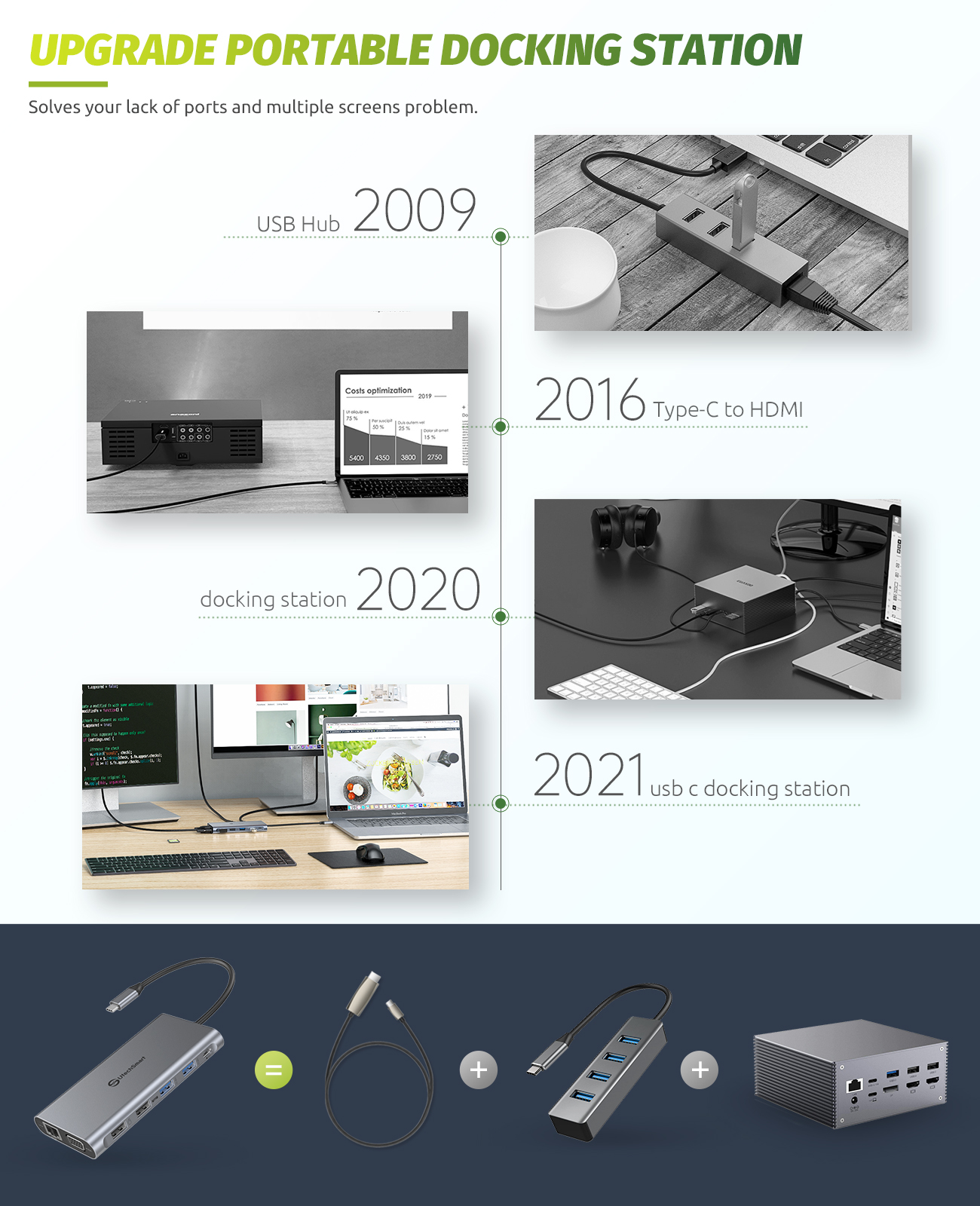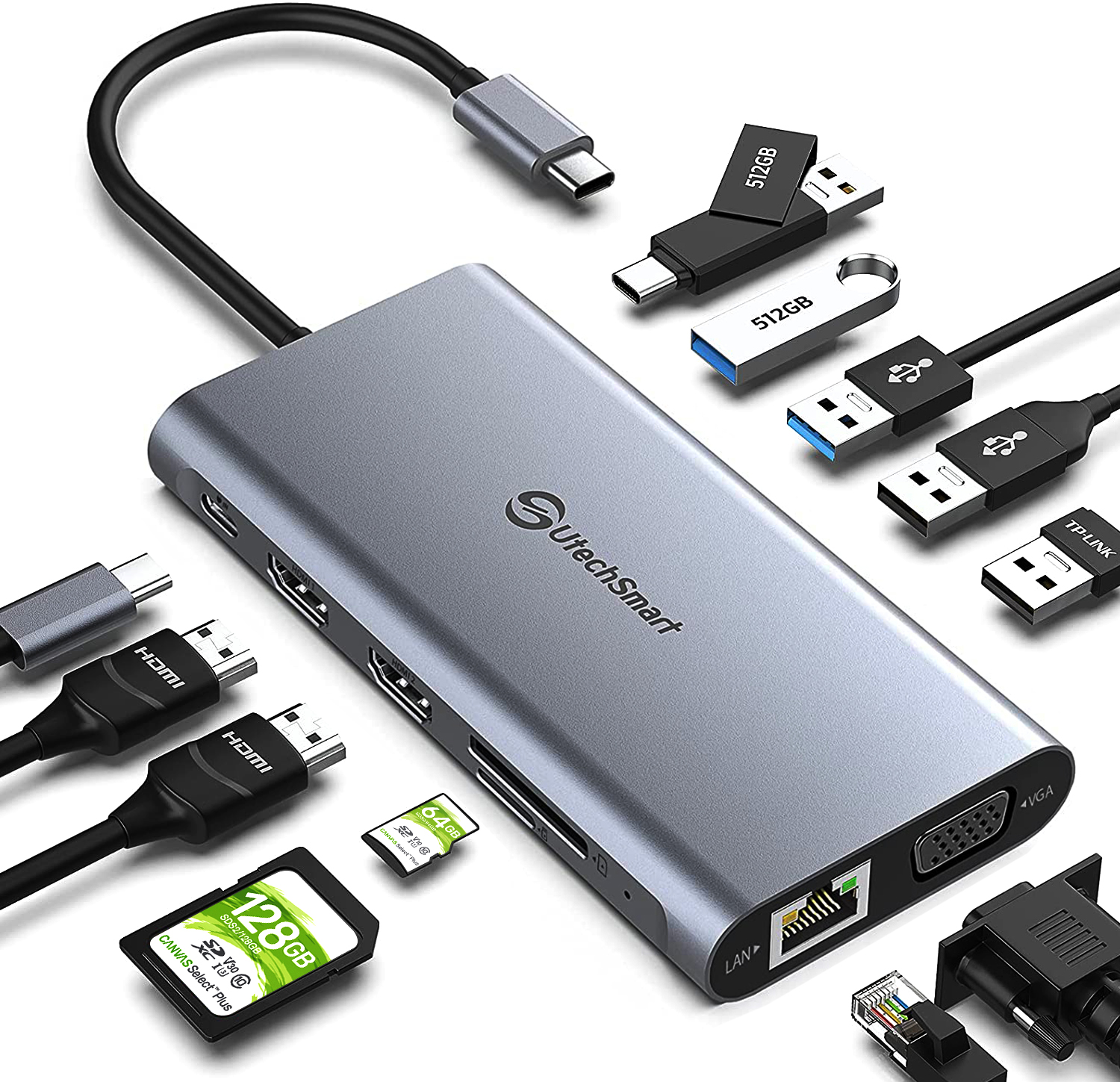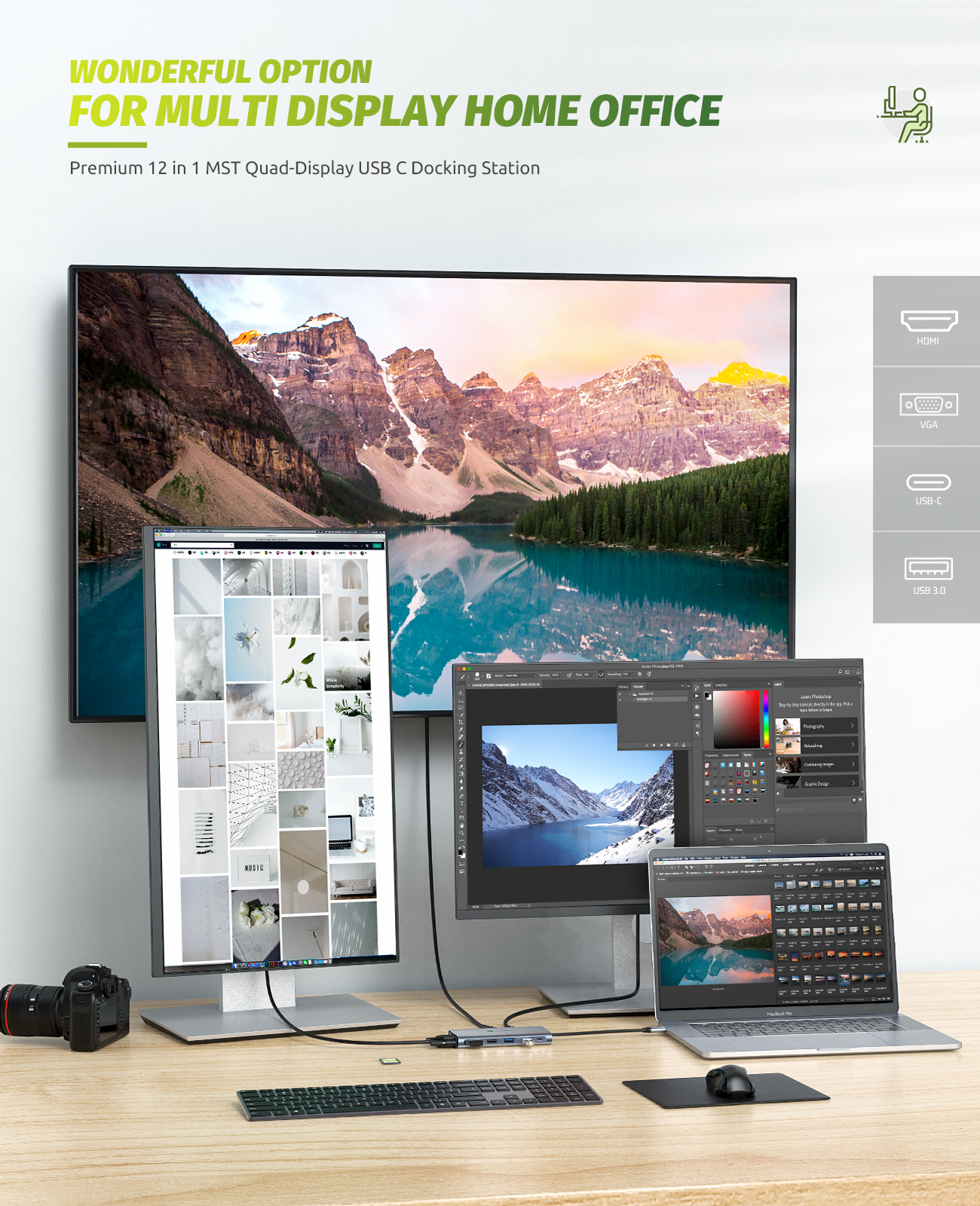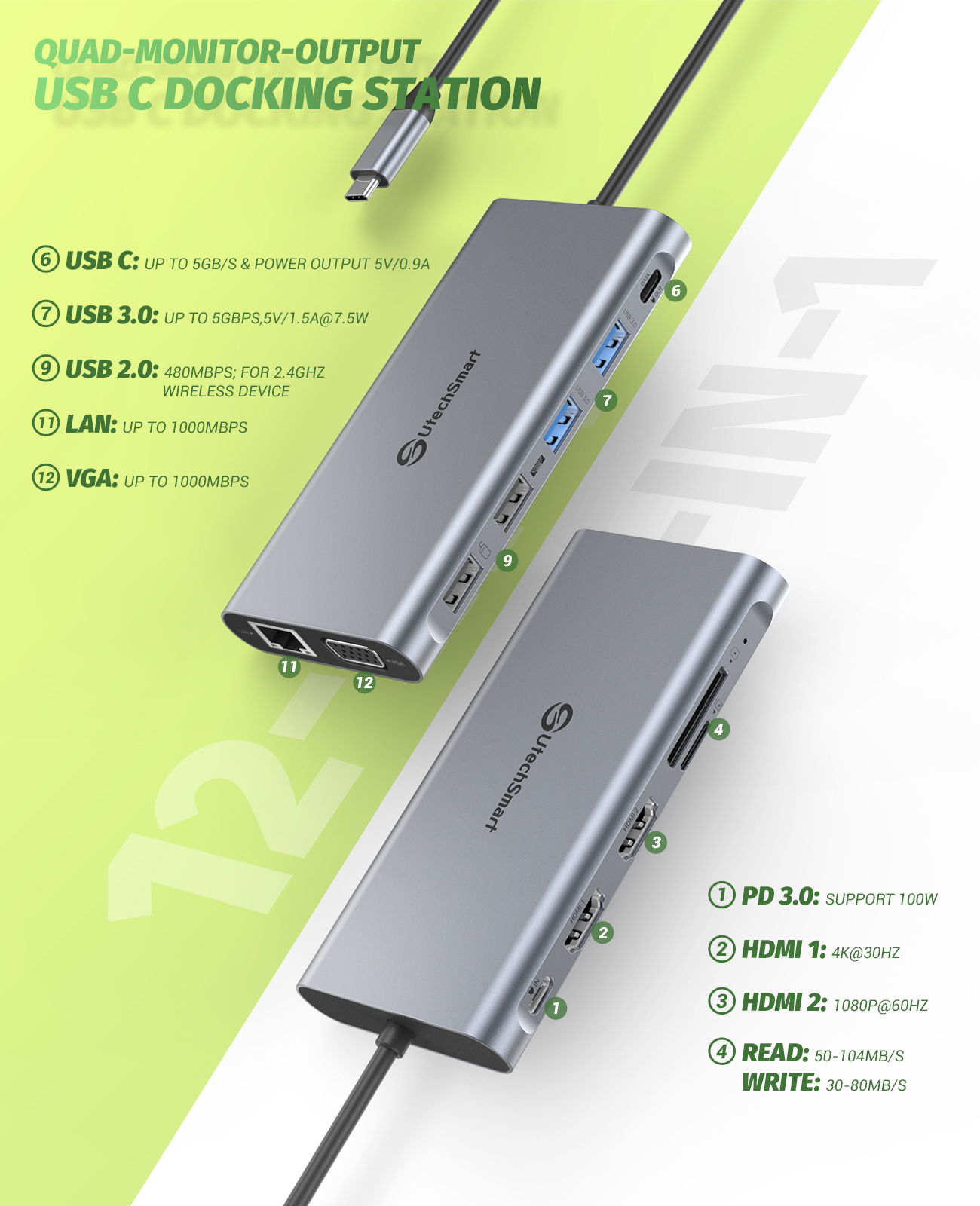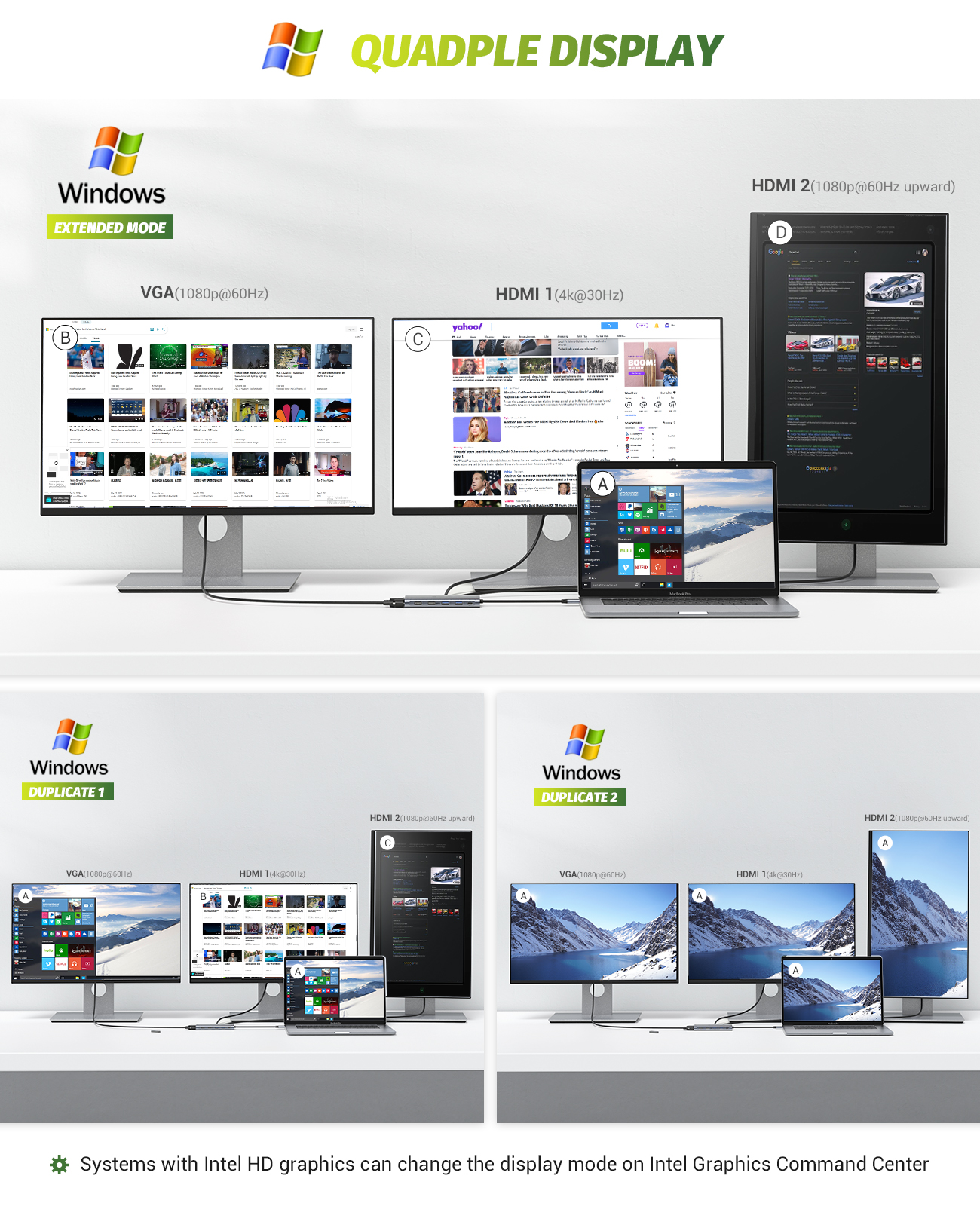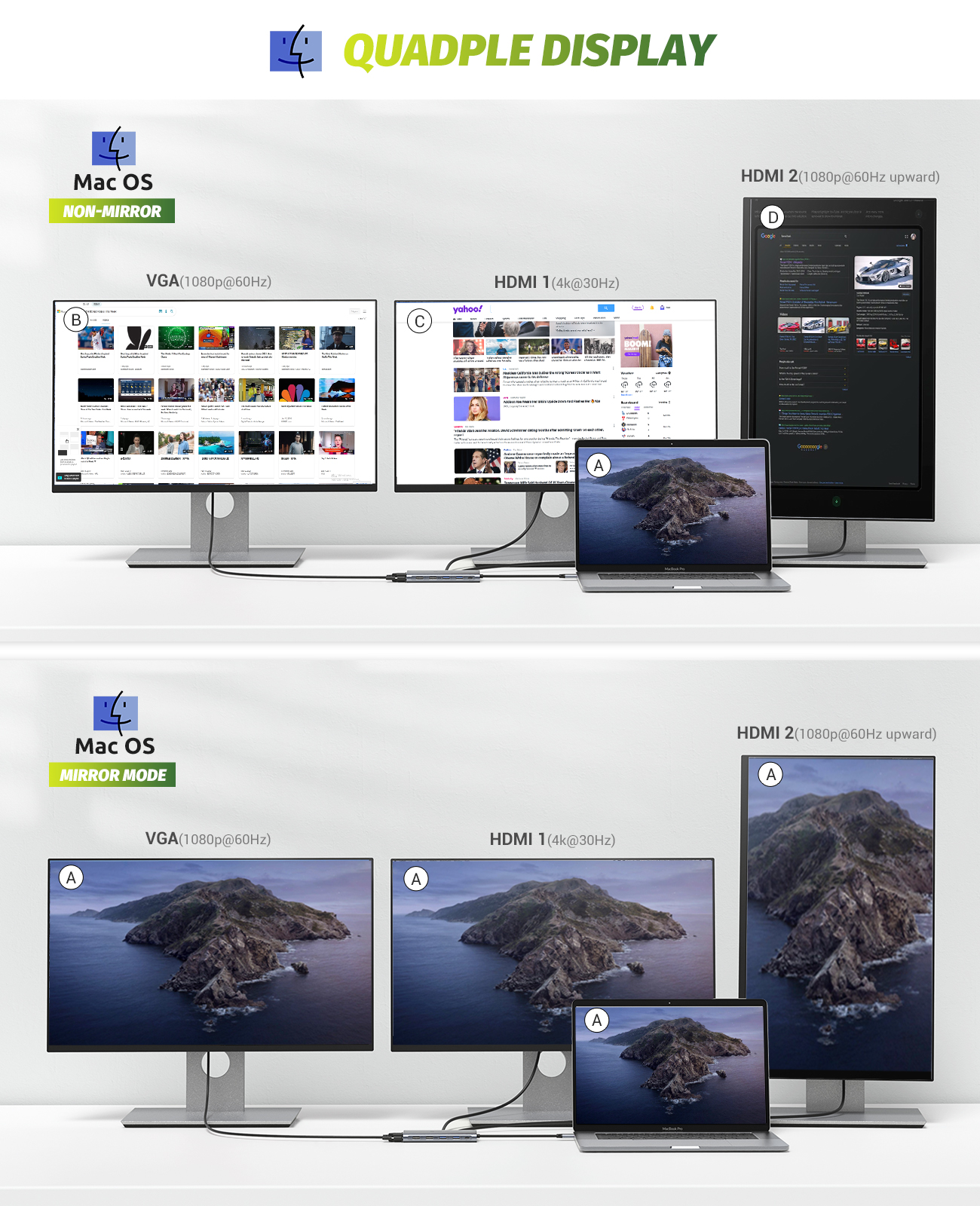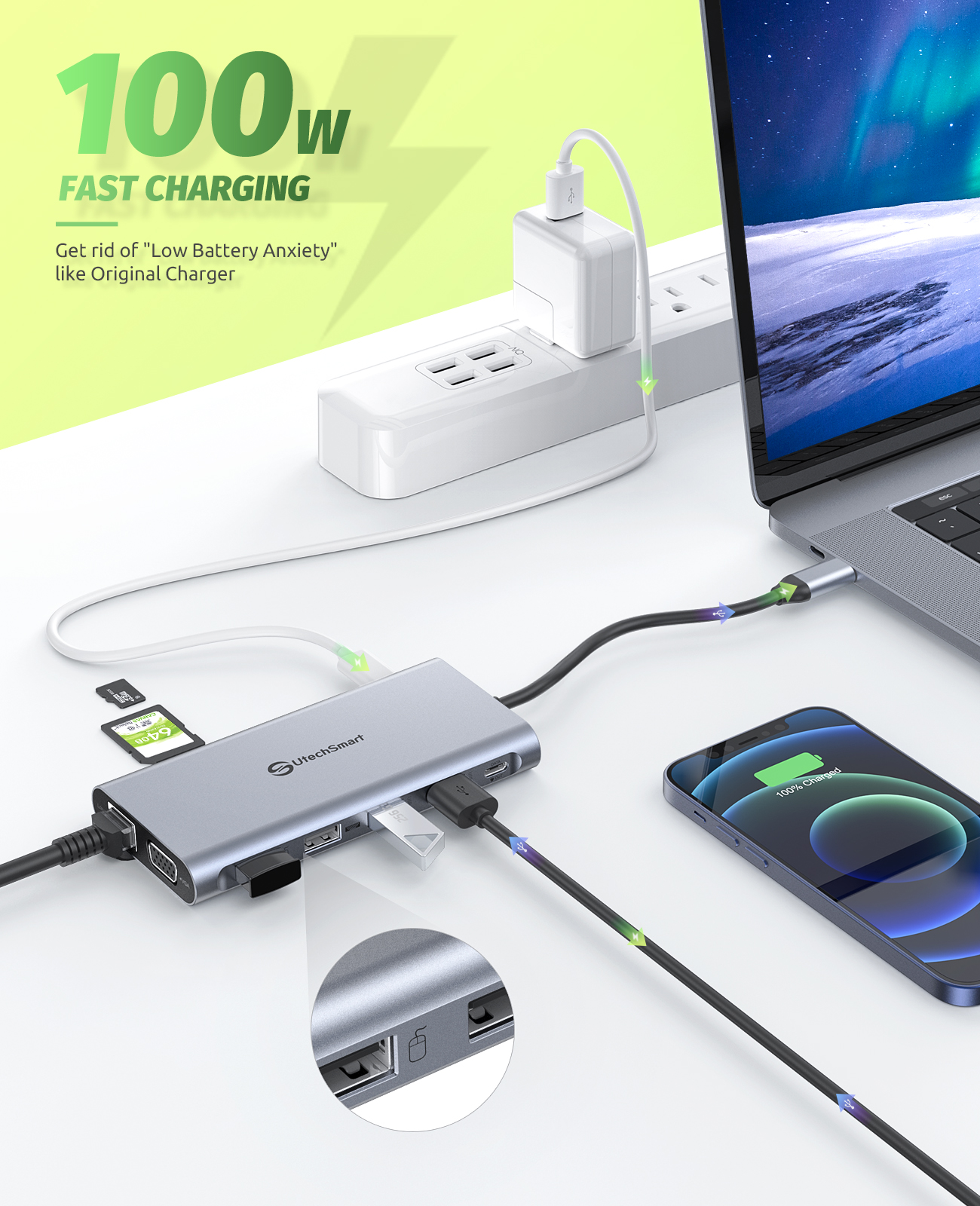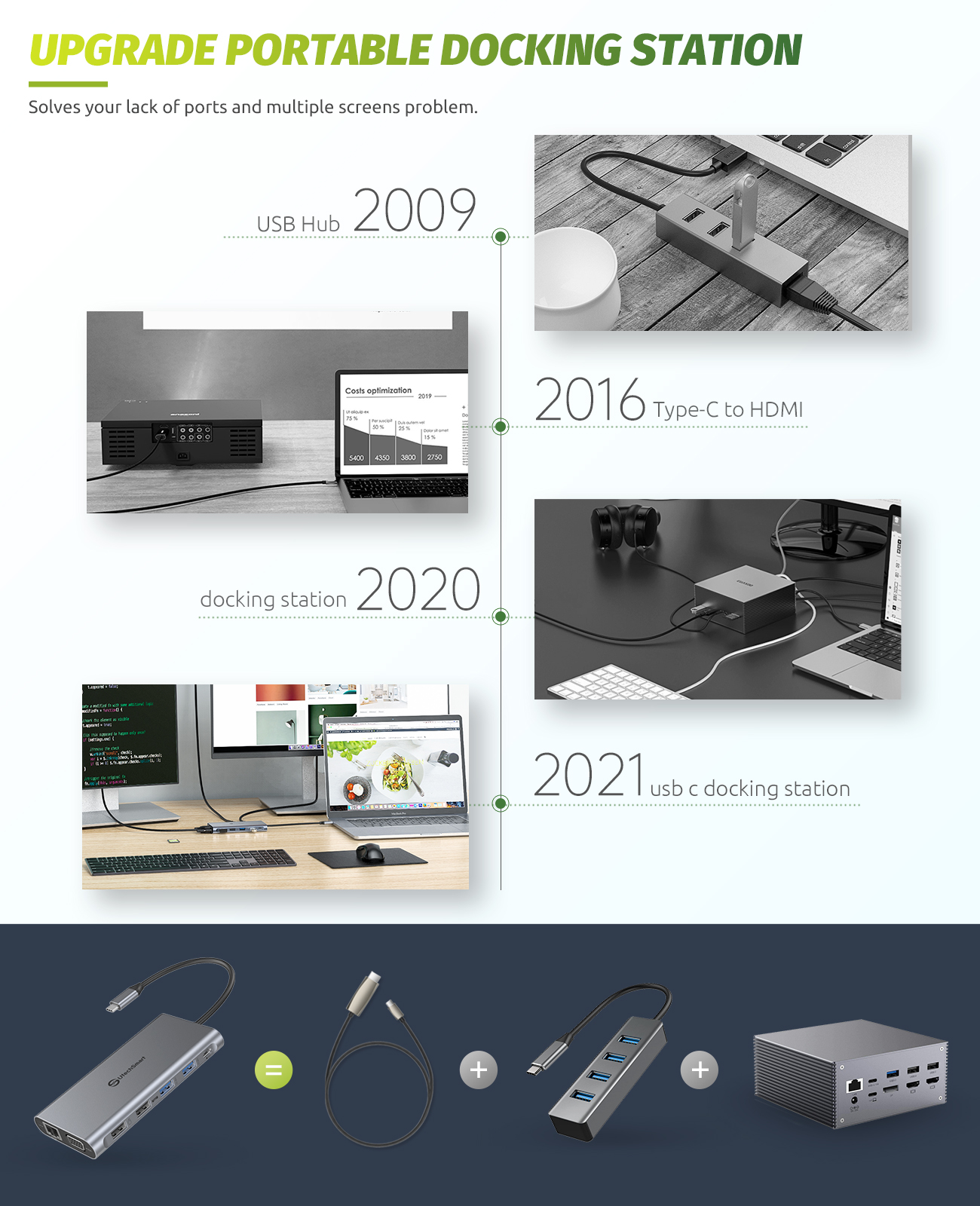 Quadruple Docking Station Displaylink UCN3270-2 (12 in 1)
[Disruptive Breakthroughs for MacBook]: With the DisplayLink chip, UtechSmart docking station for MacBook not only breaks the single stream limitation of macOS, but also supports macOS to reach a higher level of MST quadruple display. Multi-task like a pro on multiple monitors! The UtechSmart laptop docking station is designed for technology-focused professionals such as content creators, gamers, live streamers, and designers.

[Upgraded Display Solution for Windows:] The stable and powerful quadruple monitor docking station solves the common problem of black screen when using MST display support for Windows system via the latest dual-stream video output chip developed by UtechSmart R&D team.

[Want to experience a portable docking station beyond the traditional one?]: The compact and lightweight design of the UtechSmart usb c docking station will meet your needs. Including 2x HDMI, 1x VGA, 4x USB-A ports, 1x RJ45 Gigabit Ethernet, 1x USB-C for charging, 1x USB-C for data transfer, and SD/TF card reader. Versatile and all-in-one, easily used for home, work, travel or business trips.

[High Speed Transmission]: Equipped with PD 3.0 port up to 100W power pass-through, which greatly shortens the charging time. Additionally, the UtechSmart docking station offers a 1000Gbps Gigabit Ethernet port to download 1Gb+ movies in seconds. Enjoy stunning HD blockbusters with ease through the 4K HDMI port.

[Broadly compatible]: UtechSmart usb c docking station works with and enables full functionality on Thunderbolt 4, Thunderbolt 3, USB4 and USB-C laptops, including Apple M2, M1, Intel-based Mac and Chrome OS devices.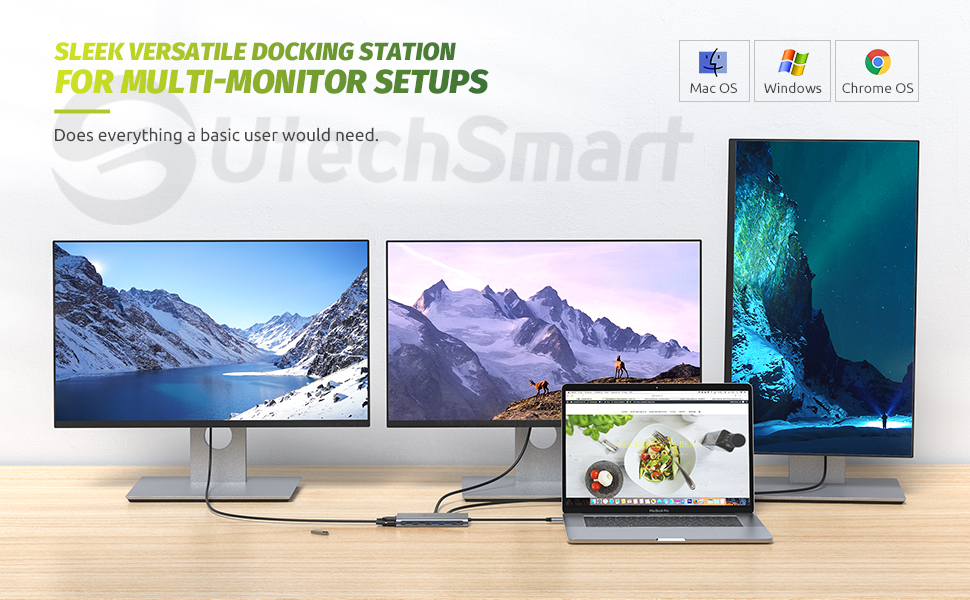 Compatible Devices




USB-C 3.1 Gen 2, Thunderbolt3/4




USB-C 3.1 Gen 2, Thunderbolt3/4




USB-C 3.1 Gen 2, Thunderbolt3/4




USB-C 3.1, Thunderbolt3/4,




USB-A




USB-C 3.1, Thunderbolt3/4,




USB-A




USB-C 3.1, Thunderbolt3/4,




USB-A




Video Output Mode




DisplayPort Alt Mode




DisplayPort Alt Mode




DisplayPort Alt Mode




DisplayPort Mode & DisplayLink




DisplayPort Mode & DisplayLink




DisplayPort Mode & DisplayLink




Resolution




Single 4K@30Hz, Dual 1080p




Single 4K@30Hz,




Triple 1080p




Single 8K@30Hz, Dual 4K@60Hz




Single 4K@30Hz,




Triple 1080p




Single 4K@30Hz,




Triple 1080p




Single 8K@30Hz,




Quintuple 4K@60Hz




Number of Display Outputs




2*HDMI




2*HDMI, 1*VGA




3*Thunderbolt 4




2*HDMI, 1*VGA




2*HDMI,




1*DisplayPort




3*Thunderbolt 4,




1*HDMI, 1*DisplayPort




Gigabit Ethernet Port




#N/A




√




#N/A




√




√




√




Max Transfer Rate




5Gbps




5Gbps




40Gbps




5Gbps




5Gbps




40Gbps




Power Demand




88W (Use 100W PD adapter)




92W (Use 100W PD adapter)




120W DC Adapter Included




92W (Use 100W PD adapter)




87-96W(use 100W PD charger)




120W DC Adapter Included




Other Ports




USB3.0,




USB-C PD Charging




USB3.0/2.0,




SD/TF,




USB-C PD Port




USB 3.1,




DC in




USB3.0/2.0,




SD/TF,




USB-C PD Port




SSD,




USB3.0/2.0,




SD/TF,

USB-C PD




USB3.0/2.0,




SD/TF,




USB-C PD Port




Connection Method




USB-C to HOST




USB-C to HOST




USB-C to HOST




USB-C to USB-C/USB-A




USB-C to USB-C/USB-A




USB-C to USB-C/USB-A




Number of Ports




4

11

6

12

15

16

Product Model




UCN3303-1

UCN3270

T4803

UCN3270-2

UCN3524-2

T4802

Other top rated product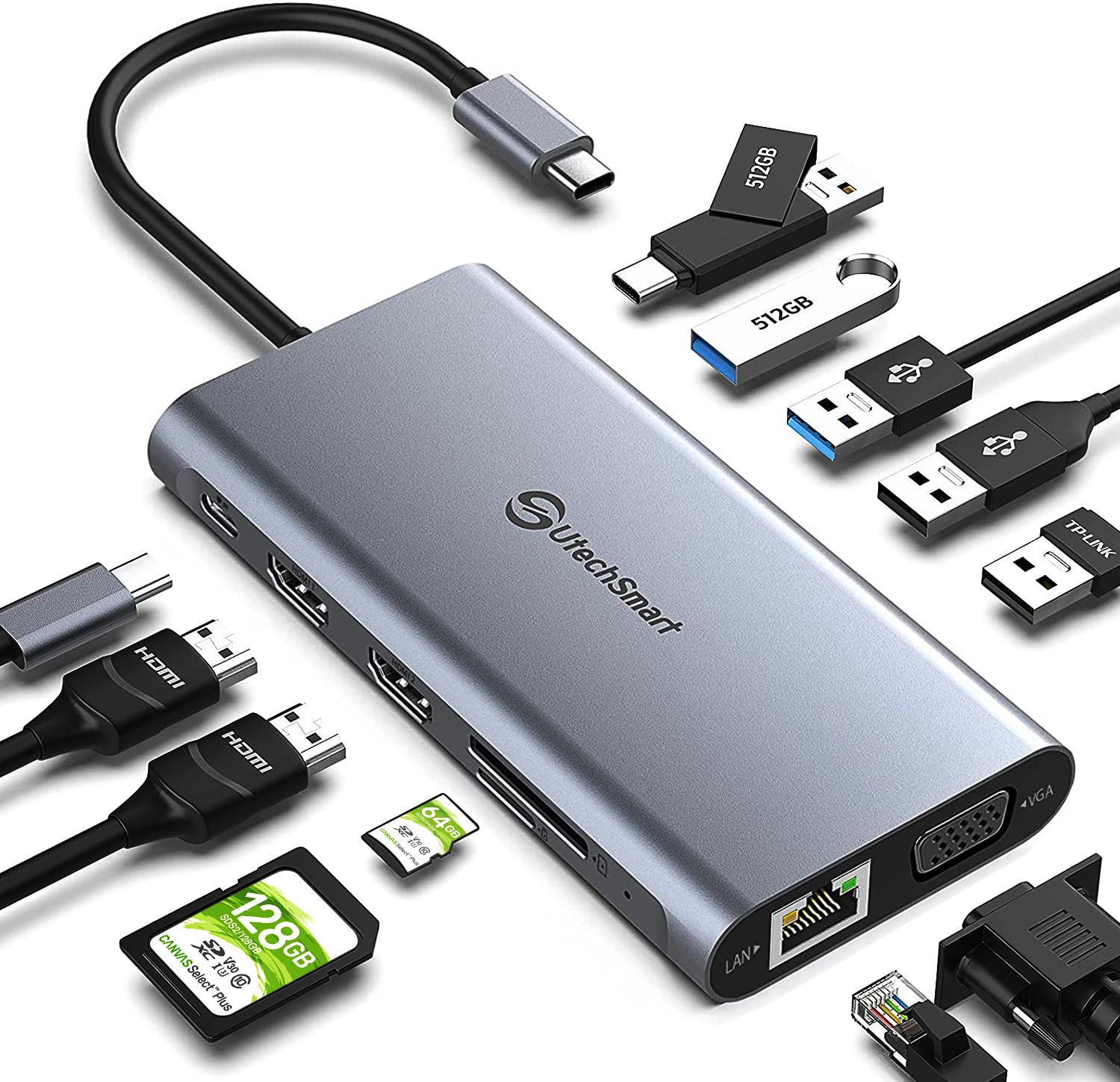 ---
---
0 Reviews
Sorry,there is no data on the page you visited!